Description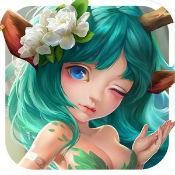 Burst Horde v1.1.0 Mod APK + OBB for Android.
The most popular and competitive ARPG+MOBA game in 2016!
《Burst Horde》is a 3D real-time battle mobile game. The innovation of "Trinity Mode" has perfectly merged MOBA with ARPG. Unparalleled heroes, excellent 3D technology, fancy scene, stunning skill effect and diversiform hero foster system. One-touch to trigger each hero's unique ultimate skill. Join and discover the action-card-battle world of Burst Horde!
【Game Feature】
Unique Trinity Mode, World at Your Command
Adopted the revolutionary battle mode "Trinity"that one player controls 3 heroes in one battle, experience the joy of pk by simple operation! Control these heroes and ultimate skills manually to get out of the crisis, win or nothing, it's in your hands!
Exclusive Hero Foster System
The most powerful hero is awaiting! Collectingvarious of heroes by consuming diamonds, foster your own unique special hero by upgrading heroes' level, skill level, promote, star-up and so on. Different hero collocation will bring you unexpected battle results, collect more heroes to activate unique fate!
Adventure Unique PK Mode
Revolutionary real-time battle platform brings you characteristic experience, and help you understand the real meaning of PVP. Diverse battle strategy, one-touch skill release and diverse hero combination, all these created an exciting and interesting PVP world!
Rich Gameplay &New MOBA Style
Inherit traditional MOBA play methods, simulate "single/double tower battle" gameplay, break the tower and swipe you way to victory. Enter the chaos of battle to be the king.
Rail Rush, Infinite Plunder
Dispatch heroes quartered in your own mine to gain abundant items like high level gems, halidomfragments and equipment fragments.Make impossible possible!
Abundant Rewards & Valuable Heroes
Big bonus is awaiting, all kinds of limited gift packs, diamonds, gold and heroes, come and get great rewards!
Mod info:
1.) slightly shorten CD – abilities fire off more frequently
2.) enable auto fight, auto run, auto attack as default
3.) enable auto fight control display to toggle to manual in all mode (including boss)
4.) lucky draw will show items, no more guessing – click on the border frame to select item!
5.) remove most immunity from enemies (note your immunity is untouched nor boosted!)
6.) damage slightly boosted
7.) minor – auto fight and manual can be used together! Switch explicitly to manual if you want full control
Some notes:
1.) during guided story, you need to wait till story finish before selecting lucky draw
2.) auto run is a bit buggy in game, ever seen a hero stuck on corner? switch to manual then auto
Install Steps:
1.) install modded APK
2.) let it download 126mb data or just extract OBB (178mb) below
3.) enjoy
Download [Google Play]