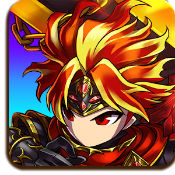 Brave Frontier Japan (ブレイブフロンティア) v1.9.01 Mod APK for Android.
Operation verification already recommended ※ terminal, please refer to the following. Also you can play in the tablet terminal. 
※ Please note that no installation and operation of which is guaranteed by the terminal that are not listed here. 
※ Recommended terminal information will be updated from time to time. 
[Introduction of the game] 
Crisp too! Super authentic RPG "Burefuro" is finally here! 
When the door is Shi opened, the fate of the gear start around … 
by the force of the eye awake Shi summons, and Save the World "Grand Gaia" of the gods! 
[Whatever summon a variety of unit who] 
Summoned unit who more than 1000 kinds! 
Fire, water, and event organized tree, lightning, light, the strongest team by collecting unit who consisting of six attributes of darkness! 
[Full-scale dot action] 
Fun battle screen is only looking! 
Whatever enjoy the unique and intense action of the luxury unit who were drawn with a dot! 
Units Unusual evolution looks nor action must-see quality! 
[Exhilaration outstanding battle system] 
Crispy on the touch panel exhilarating! 
And realize the UI in pursuit of intuitive operation from the normal attack to trigger the deadly skills. 
The Kimero the Spark attack to match the timing! 
[Arena Battle of incandescent] 
PvP Battle players together unfolds between unit who nurtured! 
Do you and wins the fight in the arena, be able to master the strongest summon position! ? 
[Inquiry opinions and requests, click here] 
[email protected] 
Mod info:
v1:
– Ez Evo – No Max Lvl Needed
– Auto-Win
v2:
– Ez Evo – No Max Lvl Needed
– Player High Damage
– Freezed HP
v3:
– Ez Evo – No Max Lvl Needed
– AutoWin
– High ZEL/KARMA reward on battle END
[ads1]
Download:
Brave Frontier v1.9.01 Mod APK v1 [JP]

Brave Frontier v1.9.01 Mod APK v2 [JP]
[toggle title="Old Versions" state="close"]
Brave Frontier v1.8.3 Mod APK v1 [JP] | Mirror 1 | Mirror 2 | Mirror 3

Brave Frontier v1.8.3 Mod APK v2 [JP] | Mirror 1 | Mirror 2 | Mirror 3

Brave Frontier v1.8.3 Mod APK v3 [JP] | Mirror 1 | Mirror 2 | Mirror 3
Brave Frontier v1.8.2 Mod APK v1 [JP] | Mirror 1 | Mirror 2 | Mirror 3

Brave Frontier v1.8.2 Mod APK v2 [JP] | Mirror 1 | Mirror 2 | Mirror 3

Brave Frontier v1.8.2 Mod APK v3 [JP] | Mirror 1 | Mirror 2 | Mirror 3
Brave Frontier v1.8.0 Mod APK [JP] | Mirror 1 | Mirror 2 | Mirror 3
[/toggle]