Description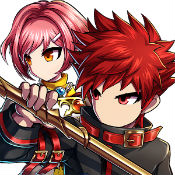 Brave Frontier 2 v1.0.1 Mod APK for Android.
■■■ royal road RPG played by 33 million people worldwide! ###
— A new legend starts now —
Tap, flick crispy refreshingly! Easy operation!
Strong "SPARK" attack with timing!
To all RPG fans, the latest series of real RPG!
【Heavy Scenario! 】
The world after 20 years from the previous work "Brave Frontier"!
To regain the hometown where a new hero was robbed,
Now the door of summoning will be opened again!
No one can stop stopping the gears of destiny that began to turn around …
[Ties will heat up the battle! New Special Moves "Xross Brave Burst"]
Combination attack of up to 6 characters "Xross Brave Burst"!
Cool collaboration techniques and comical continuous techniques, even simultaneous breathless attacks! What?
Turn over the war situation with the power of ties!
【World's Best Dot Animation! 】
Individual rich dot characters go around rampaging screen narrowing!
That quality is no longer art!
Keep an eye on the beautiful and precisely drawn dot illustrations!
【Full loading of elements included! 】
An incandescent PvP battle "Arena" fighting against each other between players' units!
"Frontier hunter" competing for skill with knowledge as a summoner!
The battle with the enemy of the highest difficulty "trial" quest!
Series popular content appeared more upgraded.
Who is the title of the strongest summoner! What?
Mod info:
v1:
Player High HP
Pet High HP
High Damage
v2:
[ads1]
Download [Google Play] – This game is in Japanese,there's no English yet.
You might need the Original APK to bypass tutorial.
Brave Frontier 2 v1.0.1 Original APK

Brave Frontier 2 v1.0.1 Mod v1 APK