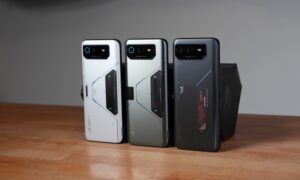 ASUS, a well-known brand for its gaming hardware, is all set to launch its latest flagship gaming smartphone, the ASUS ROG Phone 7. While there is no official word from the company yet, rumors and speculations about the phone have been circulating for quite some time now.
According to sources, the ASUS ROG Phone 7 is expected to be announced in or around July 2023, which is when the previous model, the ROG Phone 6, was unveiled. This is based on the history of the series and speculations from analysts in the industry [1][2]. Additionally, there may be a slightly different ROG Phone model launched after the standard model, as the company has done in the past.
In terms of specifications, rumors suggest that the ASUS ROG Phone 7 may feature 16GB of RAM, which is the same as the previous model. However, there are also rumors that suggest there could be an option with 18GB of RAM [3]. The phone is expected to come with a 6.8″ FHD+ 165 Hz AMOLED display, making it a great choice for gamers who prefer high-quality graphics and smooth gameplay.
While there are no official details about the price of the ASUS ROG Phone 7, it is expected to be priced similarly to the previous model, which was launched at around $999. However, it's worth noting that the price could vary depending on the configuration and features of the device.
In conclusion, the ASUS ROG Phone 7 is expected to be a significant upgrade over its predecessor, offering improved performance, better graphics, and an updated design. While we don't have official details about the phone yet, rumors suggest that it could be a great choice for gamers who are looking for a high-end smartphone. We'll keep an eye out for any new information regarding the ASUS ROG Phone 7 and update this article accordingly.