Description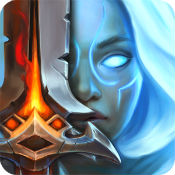 Bladebound v0.46.09 Mod APK+DATA for Android.
Fast-paced action rpg introducing the most immersive gesture based combat system ever!
When the last Bladebound fell into the Chaotic Portal, the world was lost in darkness. Now, centuries later, a hero rises to restore the legacy of the Bladebound Order and drive the evil from his homeland. Become the Last Bladebound and restore the Shattered Realms!
SWIPE`N`SLASH ACTION
– Gesture-based gameplay for the most immersive, fast-paced combat ever created!
– No more joysticks and buttons – slay hordes of enemies with mere swipes!
– Use powerful Psalms to boost your battle prowess even further!
A VAST WORLD TO EXPLORE
– Fight your way through the many floating isles of the Shattered Realms!
– Experience diverse environments, from the war-torn deserts to the overgrown ruins!
– Unlock higher difficulties to get even better, more powerful loot!
AWESOME LOOT
– Collect gear and customize the ultimate, unstoppable warrior!
– Evolve your items and choose elemental loadouts to match your fighting style!
– Choose from hundreds of unique items!
A WONDER TO BEHOLD
– Console quality HD graphics!
– Highly-detailed environments and characters!
– Brutally realistic combat animations!
What's New
– Minor bugs improvements.
– Game can now be run on devices with less than 1.5GB RAM.
Bladebound v0.46.09 Mod Info:
1. Infinite Gold.
2. Infinite Gems.
3. 789789 Inventory Capacity.
Download [Google Play]