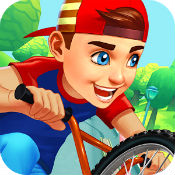 Bike Blast Racing Stunts game v1.0 apk for Android.
Bike Blast is a high speed intense free running game where you can ride your BMX bike through the city and perform awesome stunts and crazy jumps with the coolest fun kids in town. Grab your bike and go!
Hop on your BMX and swipe, jump, duck, dodge and dash your way to victory!
Blast your way through a modern city and perform extreme high octane tricks, wheelies, jumps and flips over obstacles, busses, taxis, ramps and more! Grind on rails, slide under tunnels, pedal through and over the city underpass and catch some mad air by speeding up ramps and grabbing hold of your own hang glider. You'll need quick reactions to collect all the coins!
Meet the Gang!
Choose from either a boy or girl and ride your own shiny bicycle through the city. Meet Max, Amy and their ace buddies! Complete mission ranks and achievements for a challenge, or turn it up a gear and take on your friends and beat their high score. The more they play, the more rewards you earn!
Game Features:
– Colorful HD graphics!
– Choose your starting character!
– 7 funky characters to unlock!
– 7 ace BMX bikes to ride!
– Pedal your way through the city!
– Perform cool stunts and grind rails!
– Fast intense gameplay!
– Use awesome power ups!
– Catch a ride from a helicopter!
– Ride a rocket to boost your score!
– Earn mad air up ramps and go hang gliding!
– Compete with your friends and earn coins when they play!
– Earn achievements, rewards and more!
– Stay tuned for more content and characters!
– Action packed fun!
Downloads:
Bike Blast Racing Stunts game v1.0 APK | Mirror 1 | Mirror 2 | Mirror 3