Description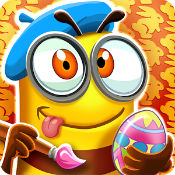 Bee Brilliant v1.23.2 Mod APK for Android.
Explore the world of Beeland and meet the singing Babees, the crazy Busy Bees and the cheeky spiders in this buzzing FREE puzzle game. Get ready to connect colourful lines of Babees, make awesome combos and have some buzzing fun! Release your inner puzzle bee and join the beedazzling adventure TODAY!
FEATURES:
• Easy, addictive puzzle gameplay! Match and connect one colourful line of bees after another to unleash combos!
• Play your way through Beeland in 6 different game modes and hundreds of addictive levels!
• Challenge your friends! Can you Bee Brilliant enough to top their high scores?
• Lots of crazy bees! Meet Ms. Honey, Sgt. Sting, Beecasso and others! And, of course, the singing Babees will not miss a chance to break into a tune of buzzing barber shop disco!
• Loads of different game modes: Pop the cheeky spiders' web, collect honey pots and much, much more!
• Not to forget: A lifetime's supply of bee puns!
What's New
1.23.2
Bug fixes
1.23.0
Put on your bunny ears and join the bees for a buzztastic Easter in Beeland!
• Longing for an Easter adventure? Come find one in the brand NEW LEVELS!
• What would an update be without music? We wouldn't know! Tune in for a NEW SONG by The Beester Bunnies!
• The janitor bees have been doing spring cleaning and got rid of some pesky bugs!
Mod info:
V1:
– Unlimited Lives
– Unlimited Coins
– Unlimited Boosters
– Normal Moves
V2:
– Unlimited Lives
– Unlimited Coins
– Unlimited Boosters
– 50 Moves
Download [Google Play]
Bee Brilliant v1.23.2 Mod APK v1 | Mirror 1 | Mirror 2