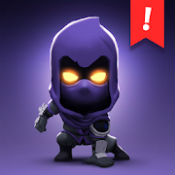 Battlelands Royale v1.4.6 Mod APK for Android.
Made for mobile, Battlelands Royale is a casual Battle Royale game for everyone to enjoy. With 32 players and 3-5 minute matches it's a whole lot of fun! No waiting in lobbies; no complicated menus to navigate. Just play, parachute, loot, and survive!
Play Solo or join forces with fellow players in Duos. Choose your landing spot, drop in and win! Play on a huge map with awesome locations like the Hideout, Ship, Maze and Trainyard. Or maybe you'll hide away in Camper's Paradise? Whatever your strategy, don't get caught by the storm!
As you play you'll unlock customized content like parachutes, emotes and special characters by gaining XP and levelling up. Get the Battle Pass for even more rewards, and play with Rare and Legendary characters too!
Super simple controls, a fun and quirky art style and pick-up-and-play gameplay make Battlelands Royale a game you won't want to put down.
BATTLELANDS ROYALE FEATURES:
— Real-time fast-paced 32-PERSON MATCHES against players from all over the world!
— TEAM PLAY! Join forces with a Battle Buddy and play together.
— MEGA REWARDS! Collect new characters, emotes and parachutes as you level up.
— EXCLUSIVE BATTLE PASS CONTENT! Unlock rewards and flaunt them in the arena with the Battle Pass.
— HUGE game map to explore. Parachute into your area of choice and control your landing.
— Tons of ITEMS to loot!
— Race to SUPPLY DROPS to gain that all-important edge in matches!
— SHRINKING play area. Stay clear of the storm!
Are you ready? See you in Battlelands Royale.
Mod info:
Crit damage, the medicine pack can be full of blood
Download [Google Play]