Description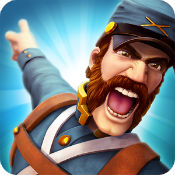 Battle Ages v1.6.2 Mod APK for Android.
Storm through history and conquer your enemies in this awesome combat strategy game!
Progress from the dawn of mankind, build your civilisation, and lead it through thousands of years of advancement from the discovery of fire to the invention of the telegraph in exciting PvP combat of epic proportions.
Use your workers to build cutting edge industry, build and upgrade your defenses and employ great scientific minds of the era to research fantastic weapons of each distinct age.
Train your military and send armies out to lay waste to nearby settlements and steal their stashed riches.
Join the race through time and fight to be the most powerful leader in history!
Key features of Battle Ages;
– Lead a civilisation from the dawn of time to the modern age.
– Journey through 6 distinct, authentic, and exciting ages in time from launch, with more ages following very soon!
– Compete against thousands of other players for domination on a global scale.
– Research new and powerful weapons to aid your fight.
– Join forces with friends to take on other groups in epic battles that span generations!
– Battle players across the ages – see Neolithic Barbarians fight Medieval Knights, and Roman Legionnaires stand off against Union soldiers!
– 22 different units, 15 different spells, 11 different traps and more than 50 unique buildings to construct!
– Save your game and play across devices by linking to a social media account
What's New
Major improvements are incoming!
* FIXED! Various stability issues!
* FIXED! Added Turkish Flag!
* NEW! Attacking another player will remove them from your enemies list for 24 hours!
* IMPROVED! You will receive better options to attack in the enemies list!
So download this update and keep charging through the ages!
Mod info:
– Unlimited Gems – ( Increase Instead Of Decrease )
– Unlimited Coins – ( Increase Instead Of Decrease )
– Unlimited Troop Deploy – Works In Multiplayer
– Unlimited Troop Deploy – Works In Campaign
Download [ Google Play ]