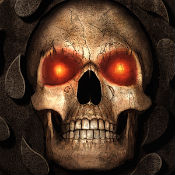 Baldur's Gate Enhanced Edition v1.3 b2070 Mod APK for Android.
This game is optimized for tablets.
The dawn is especially cruel this morning…
For as long as you can remember, your view of the world has been limited to the heavily fortified walls of Candlekeep. Your foster father, Gorion, has done everything in his power to protect you and keep you out of harm's way.
All of that is about to change. Forced to leave your home under mysterious circumstances, you find yourself drawn into a conflict that has the Sword Coast on the brink of war. An iron shortage of unknown origin threatens to plunge the city of Baldur's Gate into conflict with Amn. Meanwhile, there is something else at work, far more sinister than you can even begin to fathom…
Since its release in 1998, this classic saga of mystery, intrigue, and adventure has set the standard for Dungeons & Dragons™ computer roleplaying games. Customize your hero's traits and abilities, recruit a party of brave allies, and explore the far corners of the Sword Coast in your search for adventure, profit… and the truth.
Baldur's Gate: Enhanced Edition contains the original 60-hour epic, as well as the following expansions:
* Tales of the Sword Coast: Explore the fabled Durlag's Tower and more locations from the original Baldur's Gate expansion.
* The Black Pits: You have been captured and forced to fight in Baeloth's marvelous arena. A myriad of monsters await, as well as countless other adventurers who face the same fate. Maim, murder, and maul your way to freedom… if you can!
* Discover countless improvements we've made to the original game, including high-resolution fonts, an improved interface, dynamic zooming, and more!
* Brothers Lost: Lend your aid to Rasaad yn Bashir, the Sun Soul monk, as he scours the Cloud Peaks in search of his lost brother.
Baldur's Gate: Enhanced Edition also offers the following premium content available for purchase:
* Neera and the Red Wizards: Save the wild mage Neera from the cruel machinations of Thay's dreaded Red Wizards.
* Path of the Bloodied: Join the blackguard Dorn Il-Khan in taking revenge against those who betrayed him in Luskan.
* Gallery of Heroes: Reimagine your character with eleven never-before-seen character portraits from acclaimed Icewind Dale artist Jason Manley!
* New professionally recorded voice sets to choose from to further customize your character.
What's New
– Samsung devices running Android 5.0.2 no longer display an empty black screen
– Battle music now ends when combat is over
– Hungarian, Russian, and Ukrainian text translations are now available and can be selected from Options > Language
– Wizard Slayer description updated to clarify that Spell Failure takes effect on both ranged and melee attacks
– Pressing the back button on the device while on the Credits screen no longer exits the application
Mod info:
All DLC Unlocked [Premium content]
Download [Google Play]
Mali/Adreno
Baldur's Gate Enhanced Edition v1.3 b2070 Mod APK | Mirror 1 | Mirror 2

Baldur's Gate Enhanced Edition v1.3 b2070 OBB | Mirror 1 | Mirror 2
PowerVR
Baldur's Gate Enhanced Edition v1.3 b2070 Mod APK | Mirror 1 | Mirror 2

Baldur's Gate Enhanced Edition v1.3 b2070 OBB | Mirror 1 | Mirror 2
Tegra
Baldur's Gate Enhanced Edition v1.3 b2070 Mod APK | Mirror 1 | Mirror 2

Baldur's Gate Enhanced Edition v1.3 b2070 OBB | Mirror 1 | Mirror 2