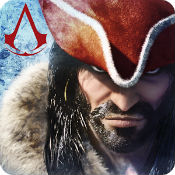 Assassin's Creed Pirates v2.6.0 MOD APK + DATA for Android.
One of the world's greatest action adventure franchise is available on your mobile device! Become one of the most feared pirates of the Caribbean in this exclusive Assassin's Creed adventure!
Play as Alonzo Batilla, a young and ambitious pirate captain, break all the rules, challenge empires and amass gold!
Assassin's Creed Pirates v2.6.0 MOD apk features:
ENGAGE IN BRUTAL NAVAL COMBATS
Fight in real-time naval battles all over the Caribbean Sea.
Choose from a wide range of weapons from the pivot cannon to the mortar, to destroy your foes and manoeuver to dodge enemy shots.
Show your skills with a cannon and defeat legendary ships and become a true pirate legend!
BUILD UP YOUR CREW AND YOUR SHIP
Acquire the most iconic boats of the Golden Age of Piracy; ranging from the smallest ship to the Man O'War floating fortress.
Upgrade your vessel with legendary customizations and the massive bounty plundered on the wild seas.
Build your naval empire by recruiting the finest crew members and learn more than 50 new pirating techniques, cannon & sail upgrades to become a better captain, run over your enemies and master naval battles.
EXPLORE THE IMMENSITY OF THE CARIBBEAN… AND MUCH MORE!
Sail throughout a vast array of islands as you explore a huge map.
Search for nearly one hundred treasures and lost files.
Run through dozens of lost Mayan temples, dodge obstacles using epic assassin's parkour moves and collect mayans stones.
Parkour temples to find the fragments of ancient treasure maps.
Hunt sharks, whales and exotic fish to never run out of supplies.
Furnish your fish collection with marvelous sea trophies, from small fry to massive sharks.
Live the epic pirate life, raise the black flag and loot a merchant ship loaded with gold or set sail on quest to battle a slave ship.
Beware of the English empire and the Spanish crown and their powerful master ship, as a pirate you are always on the run.
Compete with your friends for the highest bounty.
DISCOVER GROUNDBREAKING 3D VISUALS ON MOBILE AND TABLETS
Bask in the West-Indies sunshine, admire beautiful sunsets, navigate ice mazes and sail through the night along breathtaking coastlines.
Changing weather conditions directly impact the way you run your ship and redefine every landscape.
Beware of storms and of the treacherous fog that will conceal your enemies until the last moment!
Master the sea and its changing weather to become the most skillful pirate of the Caribbean Sea and be victorious in battles.
EMBARK ON AN EPIC QUEST FOR A LEGENDARY TREASURE
Live an adventure that will reveal the truth about the mysterious lost treasure of the famous French pirate: La Buse.
Cross paths with Assassins and Templars and take part in their age-old struggle.
Meet the most notorious and colorful pirates of the era, including Sam Bellamy, Ben Hornigold, Charles Vane and Blackbeard!
What's New in Assassin's Creed Pirates v2.6.0 MOD
Happy Christmas to all Pirates! If you are brave enough to face the blizzard and the cold winter, set sail and discover the exclusive treasure set & ship customization we created for the occasion.
Assassin's Creed Pirates v2.6.0 MOD INFO:
– Unlimited Gold
– Unlimited Resources
– Unlock All Hooks
– Unlock All Ships
– Unlock All Perks
– All Hooks Maxed
– All Ships Maxed
– All Perks Maxed
– Unlock All Areas
Requires Android: 4.0 and Up
Unrar then install APK,Place data folder in SDCard/Android/Obb/ and play.
Downloads:
Assassin's Creed Pirates v2.6.0 MOD APK + DATA | Mirror 1 | Mirror 2 | Mirror 3