Description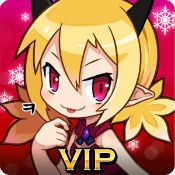 Armpit Hero: King of Hell v2.1.6 Mod APK for Android.
– VIP mode Effect –
(1) Soul orb obtained +20% forever
(2) Diamond obtained +50 in labor (150 → 200)
(3) Admission obtained +5 in PVP duel (5 → 10)
Destroy everything in Makai! Hell Armpit Warrior! [HellBoy]!
"If I comes sleepiness, then you'll come to death." Hell Yawn Wizard! [YawnGirl]!
's Infinite Makai conquest story!
★ Google play Featured Games! ★
★ Game Features ★
(1) Infinite Killing action RPG! that it can be enjoyed only by a simple touch!
(2) Automatic combat and high hitting feeling skills!
(3) Exhilarating battle with the time limit boss monsters!
(4) Always become stronger hero of infinite evolution and power-ups!
(5) Faster than anyone! Makai conquest ranking system!
(6) Summon demons and collecting!
(7) Who is the strongest in whole world! World Boss dungeon with all the allies!
Mod info:
– No Skill CD
– Player High Damage
– Devils High Damage
– No MP Cost
Download [Google Play]
Armpit Hero: VIP v2.1.6 Mod APK | Mirror 1 | Mirror 2 | Mirror 3
[toggle title="Old Versions" state="close"]
[/toggle]