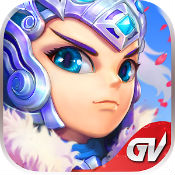 3K:Art of War v1.8.3.1124 Mod APK for Android.
【3K:Art of War】 takes place in the great history of Three Kingdom with anime 3D card action gameplay, featuring more ARPG and virtual joystick to unleash stunning skills and killer moves, bringing an exciting gaming experience like never before.
– Cutting edge game engine featuring rich animated sequence in pulsating cinematic experience
– Vying large scale battles decide your fate
– Freely develop your own combat styles and abilities
– Fashion every weapon and attire in this chaotic world
– Pounding action gameplay that will heat you into core
【Key features】
Everyone gets a trophy
Generous rewards ready to surprise every player at every corner: 10X Growth Rewards, Free warriors, even unlimited inventories up for grabs!
Fight in an immersive 3D universe
Stunning artistic realms illustrate a cinematic battle from different battle cameras in a fast and smooth acceleration.
God of War System is back!
A flexible combat system filled with hardcore attack moves and variations of hidden skill sets to intensify the epic gameplay.
A little cosplay fun lightens the bloody war
Other than destructive battles, have a little fun by fashion your character with deadly weapon arsenal and flashy attires into the mighty warrior – Lu Bu!
Non-stop giggling and burning jokes
From teleporting, wicked sacrifices, to meeting soul mate in the deep jungle (?) – Captivating, twisted storylines that will dismiss sorrow killings with drop-dead hilarious jokes and laughter.
What's new?
-Lantern Event
Players will receive random "Lantern" from dungeon. Start exchanging rare items with the lantern you received!
-New warrior: Cao Ren
Limited recruitment: 'Limited Recruitment' is change to 'Legendary Recruitment', 'Recruit fixed limited heroes' changed to 'Randomly recruit different heroes'.
'Growth Fund' changed to 'Limited VIP2 purchase';
2 points Fury increased in Lord's Majestic Skill changed to 1 point.
-BUG fixed and optimized
Mod info:
1.) InstaWIN
Notes:
1.) I don't know if this works on PvP or not, too low level atm to get there. Report back if working there or not
2.) vip is still showing 0, but some features are enabled. i don't know what other features of vip
Download [Google Play]
3K:Art of War v1.8.3.1124 Mod APK | Mirror 1 | Mirror 2 | Mirror 3

3K:Art of War v1.8.3.1124 OBB | Mirror 1 | Mirror 2 | Mirror 3
[toggle title="Old Versions" state="close"]
v1.6.0.0719 mod info:
1.) enemy 0 dmg
2.) vip15 perks enabled
3K:Art of War v1.6.0.0719 Mod APK | Mirror 1 | Mirror 2 | Mirror 3
[/toggle]