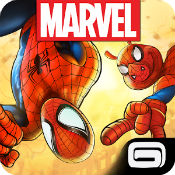 Spider-Man Unlimited v1.9.0f Mega MOD APK for Android.
Enjoy the thrill of the first amazing Spider-Man arcade web-runner! Swing, run and fight through chaotic NYC in over 7 different environments!
Go beyond an endless runner game with superior fighting and running gameplay! Combat dimensional super villains, web-swing, go running up walls and perform skydives!
Play story mode with 5 boss battles to fight and 25 missions per Issue! The action never stops with new daily and weekly events and spectacular rewards in Events Mode! Or run to the top of the leaderboards in Unlimited Mode!
THE FIRST NARRATIVE RUNNER!
A continually running, episodic adventure game: The Sinister Six are moving from dimension to dimension, destroying everything in their path – and our world is next! But this ultimate army of Spideys is fighting to give the Six a run for their money!
Dive into an extensive Marvel Universe spanning over 50 years of Spider-Man with iconic characters, including dimensional Spider-Men, multiple variations of each villain, as well as Nick Fury, Mary Jane, and Black Cat!
Written with an experienced Spider-Man comic writer to ensure a faithful recreation of the Spider-Man comics in an arcade running game!
THE MOST SPIDEYS IN ONE GAME!
Summon, collect and play as tons of Spider-Men and Spider-Women featured throughout the Marvel Universe, including Superior Spider-Man, Spider-Gwen, Scarlet Spider, and Ultimate Spider-Man!
Collect, fuse, and level up your cards to make the ultimate Spidey runner. Each has their own unique super-powers to help fight through Spidey Ops missions around NYC!
CONSISTENT RELEASE OF NEW SPIDER-MEN AND SPIDER-WOMEN!
A VISUAL BLAST
An amazing cel-shaded art style inspired by the Marvel comics.
Super-smooth graphic animation that brings your runner's every action to life.
What's New
Our most hog-wild hero yet is about to join the fray: Spider-Ham! And he's bringing friends and plenty of villainous swine to Spider-Man: Unlimited.
-What's New-
• SPIDER-HAM: Squeal with joy for the newest hero on the block! Complete a special upcoming event to unlock this hero and discover the story of a humble spider that was bitten by a radioactive pig and now fights the Green Gobbler.
• More INVENTORY SLOTS: Get ready to hire more Spideys for your team!
Mega MOD Info
Viles multiplier
ISO-8 multiplier
XP multiplier
Infinite tokens (I call it Infinite Energy)
Anti ban (You can't use it in events)
How to install ?
Uninstall any previous version if installed
Download and install the APK
Start playing. Enjoy !
Downloads: [Google play]