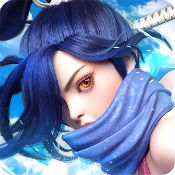 Heroes of Skyrealm v1.3.0 Mod APK for Android.
Heroes of Skyrealm is a team-based mobile game that combines the action of a hack and slash RPG with the tactical elements of an RTS. Tired of the same old strategy and RPG games? Heroes of Skyrealm is a completely new experience that puts you in control, and gives you tons of gameplay options.
Summon over 30 legendary Heroes, each with unique abilities and play styles. Use powerful attack or support spells, blast your foes from distance with long-range weapons, or hack and slash your enemies with massive swords and melee weapons. The choice is yours!
Are you an RPG fan? Customize your Heroes' skills, level up their gear and maximize their stats before battling the enemy.
Are you an action junkie? Assemble your Heroes into the perfect team and hack and slash your way to victory in this groundbreaking action RPG.
Do you relish the challenge of RTS or MOBA games? Try the brand-new Stronghold Mode, where Tower Defense meets RTS gameplay!
Looking for even more action? Crush your Rivals in the real-time PvP Battle Arena.
FEATURES
· Fast-paced, team-based hack and slash action – unlike other action RPGs, bring three heroes to the fight at the same time!
· Co-op Boss Raid – hack and slash with two friends – up to nine Heroes at once, all in real-time!
· Real-time PvP Battle Arena, with proprietary matchmaking technology
· RTS gameplay – build your base in the sky, collect resources, scout and conquer enemy territories
What early testers are saying about Heroes of Skyrealm:
"The graphics are surreal!"
"Cool animations, badass ultimate skills"
"Reminds me of RTS and MOBA games, but on a mobile"
"Real-time PvP…lag isn't an issue"
"Definitely play this game"
What's new?
– Brimstone Arena bug has been fixed
– Duel power matching has been fixed
– Guilds unlocking earlier at level 14
– HP bar display issue fixed
– Stag 7-11 Fixed
– Function Unlocked: Tavern
– New Power System: Constellations
– New Loading Screens with Heroes' Infographics
– New Server Elite Events
– New Weapon Preview
Mod Info:
[.1.] DEBUG MENU OPEN 
The General Debug Menu offer another set of Menus
*Debug Log* It regards game's Logs
1. Use Log 
2. Log
3. Warning
4. Error
5. IsShowRedPoint
*Debug Net* This one shows lot of info about game server and so on ! 
1. Quick Login – Dunno , maybe auto login on startup
2. DissConnect – Disconnect from server
3. Test url = not for you
4. url = not for you
5. not for you either
*Debug Assets*
1. SetLocalAssetURL – Don't interfere with it 
2. unloadAllAssetObject – Don't interfere with it 
3. UnloadUnused – Don't interfere with it 
4. Clear all local assets
5. Quit the game
6. Set game language to Chinese
More things on the right of the screen but dont interfere with 'em 
*Debug Music*
1. SetMusicVolume – Insert the value in the box before this and press SetMV btn
2. Close Music – Mute Music Volume
3. Start Music – Start/Resume music volume
*Debug Lua* 
Seems like give you discount on purchasing
*Debug Window*
Window tweaks , not so useful tho 
*Debug Scene* Important one 
1. ID – Center right text box – put there the stage ID you wanna enter ! lolz
2. Stop Effect Radio Button
3. Stop Animation Radio Buton
4. Show Skill Range Radio Button
*Third Platform*
It will hide the Menu ! DON'T TOUCH IT !
*Debug Lang* 
Dunno what it does
*Debug Stage* – IT'S UNSTABLE ! 
1. Launch 
2. Login
3. MainCity
4. LevelSelect
5. Dungeon
6. Novice
7. Test 
Well , this is a shortcut to the above listed things , kind of unstable and sometimes it freeze the game . 
*Debug File* 
Avoid IT !
*Battle Debug* – It appears only during battle – Press Debug to Enable it!!!
1. Add MOB
2. Del MOB
3. Hurt Player
4. Heal Player
5. Fast Win – Insta Win
6. Kill All Enemies
7. Restart Battle
8. Max energy
v1.3.0 Mod info:
– Floating hack menu on (slide to enlarge the menu size)
1. No skill CD
2. Heal
3. Crit DMG
4. Add attack + 15000
5. Crit %
6. Skip lvl
Install Steps:
Uninstall your apk and Install SIGNED MOD

Download [Google Play]
Heroes of Skyrealm v1.3.0 Mod APK | Mirror 1 | Mirror 2 | Mirror 3
[toggle title="Old Versions" state="close"]
Heroes of Skyrealm v1.2.1 Mod APK | Mirror 1 | Mirror 2 | Mirror 3
[/toggle]