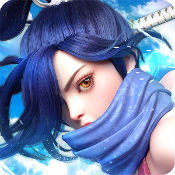 Heroes of Skyrealm v1.5.0 Mod APK + DATA (6waves) for Android.
Heroes of Skyrealm is a team-based mobile game that combines the action of a hack and slash RPG with battle strategy of an RTS. Summon over 30 legendary Heroes, each with unique abilities and play styles. Use powerful attack or support spells, blast your foes from distance with long-range weapons, or hack and slash your enemies with massive swords and melee weapons. Action, RPG, or RTS – the choice is yours!
KEY FEATURES
– Fast-paced, team-based hack and slash action – unlike any other action RPGs, bring three heroes to the fight at the same time!
– Co-op Boss Raid – hack and slash with two friends – up to nine Heroes at once, all in real-time!
– Real-time PvP Battle Arena, with proprietary matchmaking technology
– RTS gameplay – build your base in the sky, collect resources, scout and conquer enemy territories
Tired of the same old strategy and RPG games? Heroes of Skyrealm is a completely new experience that puts you in control, and gives you tons of gameplay options.
Are you an RPG fan? Customize your Heroes' skills, level up their gear and maximize their stats before battling the enemy.
Are you an action junkie? Assemble your Heroes into the perfect team and hack and slash your way to victory in this groundbreaking action RPG.
Do you relish the challenge of RTS or MOBA games? Try the brand-new Stronghold Mode, where TowerDefense meets RTS gameplay!
Looking for even more action? Crush your Rivals in the real-time PvP Battle Arena.
**Now available in 6 different languages: English, French, German, Portuguese, Spanish and Simplified Chinese
Please select your preferred language at the Title Screen on the upper left**
What's new?
New Features:
1) Chaos Fight: 5 Players battle together in order to be the final MVP!
2) Legatus: Arrange up to 3 Leader Heroes – Power them up with different attributes by teaming up Legatus Heroes!
3) Guild War (Cross Server): Find out which is the strongest Guild in the World of Skyrealm.
4) Resources Regain: Haven't finished your tasks the day before? You can reclaim those Resources with Gold now!
For full details, check out our fan page now!
Mod info:
1.) Massive everything
2.) Increased speed
Notes:
1.) mods enabled when SFX full
To play this version I used Opera VPN connected to Singapore.
Root required? No, works on both rooted and unroot Android 4.0 and up.
Download [Google Play] – (6waves)
Heroes of Skyrealm v1.5.0 Mod APK | Mirror 1 | Mirror 2 | Mirror 3

Heroes of Skyrealm v1.5.0 OBB | Mirror 1 | Mirror 2 | Mirror 3