Description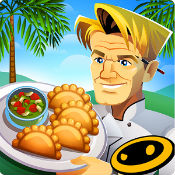 GORDON RAMSAY DASH v1.11.8 Mod APK for Android.
JOIN GORDON RAMSAY AND COOK YOUR WAY TO SUCCESS!
Travel around the globe and master your skills in unique restaurants w/ Gordon Ramsay as your guide! Build your restaurant empire!
BATTLE OTHER PLAYERS ONLINE!
Use strategy along with your culinary skills and battle other players or friends online to reach the top of the leaderboards!
CHOOSE YOUR CHEF'S LOOK!
Create your chef's own personal look with the all new avatar system, a first for any DASH game!
CELEBRITY CHEF BOSS BATTLES!
Got what it takes to compete with the best? Face Gordon Ramsay and others in new Boss Battles!
EARN AND TRADE ITEMS FOR BETTER RECIPES!
Upgrade your recipes for even better rewards by collecting rare and unique items throughout the game!
High-end, immersive tablet gameplay!
What's New
Sail away on a bold culinary adventure in our new venue: Gastroyacht Pacifica!
Complete 60 new levels from the galley like Black Sesame Pasta and more!
Welcome customer Nori Minori & new VIP customer, Erica Nicola!
Whip up some Deconstructed Halwa to attract Erica! Erica Nicola comes with an amazing boost: Rush Hour!
Efficiently helping you prep is our new Auto Chef, C.H.E.F.B.O.T 3000! C.H.E.F.B.O.T. 3000 runs the Blender and Spherifier/Flat Mold stations! So helpful!
Mod info:
v1:
-Infinite Gold
-Infinite Cash
-Infinite Supplies
v2:
-Infinite Gold
-Infinite Cash
-Infinite Supplies
-Max Level
-No Tutorial for new player
[ads1]
Download [Google Play]
GORDON RAMSAY DASH v1.11.8 Mod APK v1 | Mirror 1 | Mirror 2 | Mirror 3

GORDON RAMSAY DASH v1.11.8 Mod APK v2 | Mirror 1 | Mirror 2 | Mirror 3
[toggle title="Old Versions" state="close"]
GORDON RAMSAY DASH v1.10.2 Mod APK v1 | Mirror 1 | Mirror 2 | Mirror 3

GORDON RAMSAY DASH v1.10.2 Mod APK v2 | Mirror 1 | Mirror 2 | Mirror 3
GORDON RAMSAY DASH v1.9.1 Mod APK v1 | Mirror 1 | Mirror 2 | Mirror 3

GORDON RAMSAY DASH v1.9.1 Mod APK v2 | Mirror 1 | Mirror 2 | Mirror 3
GORDON RAMSAY DASH v1.8.9 Mod APK v1 | Mirror 1 | Mirror 2 | Mirror 3

GORDON RAMSAY DASH v1.8.9 Mod APK v2 | Mirror 1 | Mirror 2 | Mirror 3
GORDON RAMSAY DASH v1.7.4 Mod APK v1 | Mirror 1 | Mirror 2 | Mirror 3

GORDON RAMSAY DASH v1.7.4 Mod APK v2 | Mirror 1 | Mirror 2 | Mirror 3
GORDON RAMSAY DASH v1.6.4 Mod APK v1 | Mirror 1 | Mirror 2 | Mirror 3

GORDON RAMSAY DASH v1.6.4 Mod APK v2 | Mirror 1 | Mirror 2 | Mirror 3
GORDON RAMSAY DASH v1.5.4 Mod APK v1 | Mirror 1 | Mirror 2 | Mirror 3

GORDON RAMSAY DASH v1.5.4 Mod APK v2 | Mirror 1 | Mirror 2 | Mirror 3
GORDON RAMSAY DASH v1.4.10 Mod APK v1 | Mirror 1 | Mirror 2 | Mirror 3

GORDON RAMSAY DASH v1.4.10 Mod APK v2 | Mirror 1 | Mirror 2 | Mirror 3
[/toggle]