Description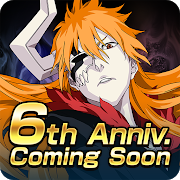 BLEACH Brave Souls Mod APK latest version download for Android.
Experience the world of the mega-hit anime, manga, and novel series Bleach! Build teams with your favorite characters from the 13 Court Guard Squads, the Espada, Xcution, or the Stern Ritter and join the fray!
ENTER THE BLEACH UNIVERSE
Relive the epic Bleach story from the moment Rukia and Ichigo first met, then delve deeper into the world of Soul Reapers with original stories from the anime, the Bleach movies, tie-in novels, and more!
EPIC SPECIAL MOVES
Unleash Ichigo's Getsugatensho, Aizen's Kyoka Suigetsu, Byakuya's Senbonzakura Kageyoshi, and all the other epic Bleach moves, all fully-voiced by the original Japanese voice actors with amazing animations! Then feast your eyes and ears on the many original special moves unique to Brave Souls!
EXCITING 3D ACTION
3D graphics and simple controls make for free-flowing and fast-paced hack-and-slash action. Play alone, or gather up to five friends for intense online co-op quests and raids!
DEVELOP YOUR CHARACTERS
Brave Souls features a highly flexible character improvement system that allows you to create exactly the warriors and the team you want. Create never before seen combinations of characters and then take your best teams online to combat other players!
In some regions, you have an option to choose a World (server) at the start of the game. However, there is no difference between the different servers except for the languages offered and certain purchasable items.
What's new?
We regularly update our game with new features, improvements, and bug fixes.
This update includes:
– new features
– improvements to existing features
– minor bug fixes
See in-game notices for details.
Mod info:
1. MOD Menu
2. God Mode (Solo + Co-Op + EPIC RAID)
3. One Hit Kill (Solo + Co-Op + EPIC RAID)
4. No Skill Cooldown
5. Unlimited Skill-Soulbombs
6. Movespeed x4
NOTE: Don't enable cheats in tutorial. Movespeed don't works in story mode when you have autoplay enabled. Other then story mode it works on auto.
My mod is pretty safe against ban but to run nearly 100% safe use second account and push your real account in co-op or epic raid only.
Areas tested on this version:
1. Story Mode [working]
2. Co-Op Mode as leader [working]
3. PvP [speed & unlimited skills working with tricks]
-PvP Trick: Start the fight with all cheats OFF, turn ON when battle starts & turn off when battle ends.
4. EPIC RAID as leader [working]
How to Install
Download and install mod apk as usual
Done and Enjoy!
[ads1]
Download [Google Play] – No mods for this game anymore. The devs added strong security to the game.