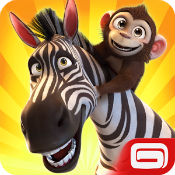 Wonder Zoo – Animal rescue ! v2.0.4a Mod apk for Android.
An infamous poacher and his lackey are threatening animals of the wilderness by stealing them from their families! Your exciting story begins as you head out on safari to rescue wildlife from danger. Welcome them into the zoo of your dreams and give the animals a place to grow up safe and strong with the help of your skilled zoo team in this amazing free Game.
***** Enjoy the wildest Zoo adventure ever *****
INTO THE WILD
√ The Game is afoot! Follow an adventurous main story through dozens of fun missions.
√ Enjoy impressive 3D graphics that help bring the story — as well as the vast environments, cute animals, big dinosaurs, and your dream park — to life.
WILD WORLD SAFARI
√ Explore the wilderness in 7 special maps: savannah, jungle, mountain, paddock and polar.
√ Find and rescue various animal and dino breeds, then welcome them into your wonderful zoo.
CREATE YOUR DREAM ZOO
√ Collect legendary species such as the Unicorn and the Phoenix, breed them and create a happy family.
√ Decorate your zoo with plants, wishing wells, cute gift shops and restaurants. There are tons of customization options to give visitors the best social experience… with dinosaurs!
FUN FRIENDS 'ROUND EVERY BEND
√ Embark on a safari with friends and family; be social and combine your abilities as Trackers, Handlers and Scouts to increase the odds of finding an animal or dinosaur.
√ Interact with friends, visit them and help each other create a true Wonder Zoo full of happy pets in your park!
►►► A fun and exciting social title for kids and adults who like free games, dinosaurs, or any kind of animal! Thanks to the great casual gameplay and easy-to-learn tycoon elements, you and your friends are sure to enjoy this family game for a long time!
Wonder Zoo – Animal rescue ! v2.0.4a Mod Info:
1. Infinite coins
2. Infinite hearts
3. Full offline
4. Remove DRM
Download [Google Play]
Wonder Zoo – Animal rescue ! v2.0.4a Mod APK | Mirror 1 | Mirror 2