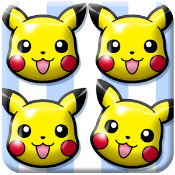 Pokémon Shuffle Mobile v1.13.0 Mod apk for Android
Users of Android 6.0 are experiencing problems such as the Game unexpectedly shutting down during play. We hope to have an update to address this issue soon. Please check back for more information.
■ Introduction
——————
A whole new puzzle Game where you solve puzzles to battle Pokémon
——————
Pokémon Shuffle Mobile is a puzzle game where you line up three or more Pokémon vertically or horizontally to battle against wild Pokémon.
You can play it casually—but battling, collecting, and leveling up Pokémon can also provide hours of fun.
——————
Lots of stages and lots of Pokémon
——————
On top of the Pokémon available at the initial release of Pokémon Shuffle Mobile, additional stages and Pokémon are planned—but this game already has a lot to offer!
Both puzzle beginners and experts will have fun with Pokémon Shuffle Mobile's various levels of challenges.
——————
Intuitive and easy game play
——————
All you have to do in Pokémon Shuffle Mobile is select a Pokémon and its destination in the puzzle area to cause combos automatically—anyone can play it!
Its simple gameplay blends with challenging strategic aspects to appeal to a full spectrum of players from beginners to experts.
What's New
[1.13] – The user interface has been adjusted to improve the display, and other modifications have been made to the game for a better play experience.
– Problem resolved
Pokémon Shuffle Mobile v1.12.0 Mod Info:
V1:
– 3k Coins Per Stage Completion
V1a:
– 3k Coins Per Stage Completion
– All Megastones Unlocked
V2:
– 3k Coins Per Stage Completion
–  High ATK Damage (500 Atk Power)
v3:
– All Pokes Max Level
– 3k Coins Per Stage Completion
V4:
– 3k Coins Per Stage Completion
– All Pokes Max Level
– High ATK Damage (500 Atk Power)
V5:
– All Pokes Max Level
– 3k Coins Per Stage Completion
– All Megastones Unlocked
– High ATK Damage (500 Atk Power)
Installation Instructions:
This will be hard to update without losing your Data if not rooted. If you delete the game, your Data goes away.
IF NOT ROOTED:
Make an account link/transfer from the main menu, copy the code (can only be done every 30 days), IF NONE ROOTED, uninstall the version installed, install SIGNED version and on the main menu, select "Transfer" instead of New Game. Input Code and Device number issued before uninstalling the previous version, and be where you last let off!
IF ROOTED:
Can install signed APK right over original from Play Store or old/current mod version if rooted (Can't use IAP)
Download[Google Play]