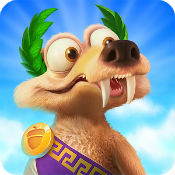 Ice Age Adventures v1.9.2d Mod apk for Android.
Scrat's nutty pursuit of the cursed acorn has world-changing consequences.
Manny, Diego, and the rest of the herd are suddenly floating out to sea at the edge of a continental cataclysm. Left all alone, Sid needs your help to rescue his friends and save the entire herd.
Get ready for ICE AGE ADVENTURES!
EPIC ADVENTURE
• Explore the unknown with Sid, Manny & Diego as playable characters
• Discover incredible environments like snowy islands and treacherous lush lands
• Overcome extreme hurdles and encounters with threatening foes in order to find the missing herd
RESCUE THE ENTIRE HERD
• Play a match-3 mini-Game to save the animals
• Sled with Sid and rescue the herd's babies
• Recruit Precious and bring the herd together quickly
A COMPLETE SCRAT-ASTROPHE
• Help Scrat escape an avalanche in an exciting and addictive runner mini-Game
• Use rescued animals as power-ups
• Compete against friends in daily/weekly challenges and earn big rewards
MOVIE-LIKE EXPERIENCE
• A unique storyline featuring the official voices of the three playable characters
• Beautiful 3D graphics will immerse you in the world of ICE AGE
• Fun animations give life to all characters
What's New
Something BIG is brewing in Ice Age Adventures… In fact, this is our BIGGEST UPDATE EVER!
VOLCANIC ARCHIPELAGOS
• Explore 2 hot new island chains & rescue new animals
• New quests & missions
VOLCANIC ARTIFACT
• Collect Scratlantean Blueprints to unlock a new power
RESTORE SCRATLANTIS TO GLORY
• Repopulate the city with residents
• Recruit ""historic"" figures like Cleoscratra & Herkules
• Train residents to become valuable Artisans
LOCAL LEADERBOARDS
See how you rank against nearby players
Ice Age Adventures v1.9.2d Mod Info:
Download [Google Play]
Ice Age Adventures v1.9.2d Mod APK | Mirror 1 | Mirror 2

Ice Age Adventures v1.9.1b Mod APK | Mirror 1 | Mirror 2 | Mirror 3