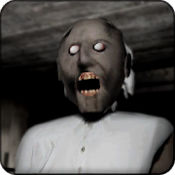 Welcome to Granny.
Granny keeps you locked in her house.
Now you have to try to get out of her house, but be careful and quiet. She hears everything.
If you drop something on the floor, she hears it and comes running.
You can hide in wardrobes or under beds.
You have 5 days.
Good luck!
The Game contains advertisement.
What's New
* Added a second "Game Over" scene.
* Added a second "The End" scene (only appears when Teddy is "delivered").
* Fixed the problem with the player sometimes get stuck in the wall to the secret passage.
* Now the opportunity to get all the locks on the main door no matter what difficulty you play.
* Extreme is now a little more harder.
* A little darker textures on Granny's house.
* Changed some sounds.
* Fixed some small bugs.
Mod info:
Download [Google Play]