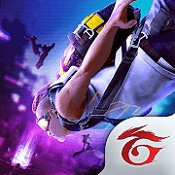 Free Fire is the ultimate survival shooter Game available on mobile. Each 10-minute game places you on a remote island where you are pit against 49 other players, all seeking survival. Players freely choose their starting point with their parachute, and aim to stay in the safe zone for as long as possible. Drive vehicles to explore the vast map, hide in trenches, or become invisible by proning under grass. Ambush, snipe, survive, there is only one goal: to survive and answer the call of duty.
[Survival shooter in its original form] Search for weapons, stay in the play zone, loot your enemies and become the last man standing. Along the way, go for legendary airdrops while avoiding airstrikes to gain that little edge against other players. [10 minutes, 50 players, epic survival goodness awaits] Within 10 minutes, a new survivor will emerge. Will you go beyond the call of duty and be the one at the apex of all other players? [4-man squad, with in-game voice chat] Create squads of up to 4 players and establish communication with your squad at the very first moment. Answer the call of duty and lead your friends to victory and be the last team standing at the apex. [Realistic and smooth graphics] Easy to use controls and smooth graphics promises the best survival experience you will find on mobile to help you immortalize your name among the legends.
What's new
1. Clash Squad Season 4 – Begins 12/08 17:00 SGT.
– Clash Squad Matchmaking optimization.
2. New Weapon – Vector Akimbo.
3. Updated Training Grounds.
– New Item: Bermuda Shells
– New Item: Fireworks
– Music Arcade now available
4. Players can now save two sets of HUD.
5. Utilities menu now supports rotational display.
6. New Rank Mode interface for Battle Royale & Clash Squad.
7. Weapon Balance Adjustment.
– P90: Damage and recoil buff
– M4: Damage and Rate of Fire buff
Mod info:
1. AimKill(Visual)
2. Aimbot
3. Esp Head
4. Esp Fire
5. Esp Material
6. Esp Infor
7. Esp Line
8. White Body
9. Remove Scope
10.More!
Root required? No,works on both rooted and unroot Android 4.0.3+
Login? Yes, Facebook and more
How to install?
Extract the obb file then copy the folder "com.dts.freefireth" to Android/obb
Extract the data file then copy the folder "com.dts.freefireth" to Android/data
Install mod apk
Enjoy the game.
How to use special script mod?
Download both mod apk and obb file from below
Extract the obb file then copy the folder "com.dts.freefireth" to Android/obb
Install mod apk
Download and install modded version of GameGuardian(Only this GG will work on this mod)
Download the cheat script
Run the script in GameGuardian
Activate the mod
Enjoy the game.
Download [Google Play]
Usee original OBB from play store