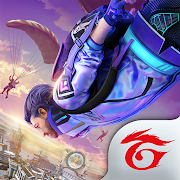 Free Fire Mod apk latest version download for free for Android.
Free Fire is the ultimate survival shooter Game available on mobile. Each 10-minute game places you on a remote island where you are pit against 49 other players, all seeking survival. Players freely choose their starting point with their parachute, and aim to stay in the safe zone for as long as possible. Drive vehicles to explore the vast map, hide in trenches, or become invisible by proning under grass. Ambush, snipe, survive, there is only one goal: to survive and answer the call of duty.
[Survival shooter in its original form] Search for weapons, stay in the play zone, loot your enemies and become the last man standing. Along the way, go for legendary airdrops while avoiding airstrikes to gain that little edge against other players. [10 minutes, 50 players, epic survival goodness awaits] Within 10 minutes, a new survivor will emerge. Will you go beyond the call of duty and be the one at the apex of all other players? [4-man squad, with in-game voice chat] Create squads of up to 4 players and establish communication with your squad at the very first moment. Answer the call of duty and lead your friends to victory and be the last team standing at the apex. [Realistic and smooth graphics] Easy to use controls and smooth graphics promises the best survival experience you will find on mobile to help you immortalize your name among the legends.
What's new
1. Clash Squad Season 6 – Begins 04/15 17:00 GMT+8
2. Bermuda Remastered now available in Classic & Clash Squad
3. Character System Rework:
– Brand new Character interface
– Reduce the cost of leveling up Characters
– Awakening Character skill is now combined with the original Character skill
4. Character Balancing Adjustment
5. New Weapon – Kord
6. Revival Point and Vending Machine are now available in all maps
7. Weapon Stats adjustment
8. Boxing Ring now available in the Training Grounds
Aim Assist
No Recoil
Shooting rage increased
Root required? No,works on both rooted and unroot Android 4.0.3+
Login? Yes, Facebook and more
How to install?
Extract the OBB file then copy the folder "com.dts.freefireth" to Android/obb
Extract the Data file then copy the folder "com.dts.freefireth" to Android/data
Install mod apk
Enjoy the game.
Download [Google Play]
Fixed crash on start
Fixed-Free Fire v1.60.1 Mega Mod APK
Free Fire v1.60.1 Hack for Jailbreak iOS:
Game Name: Garena Free Fire
Game Version: v1.60.1
Bundle ID: com.dts.freefireth
Needs Jailbreak: Yes
Platform: Apple 64 bit (old devices not working like iPhone 4)
Supported iOS: 14 and less
Supported Devices:
-Jailbroken iPhone 5s or newer
-Jailbroken iPod Touch 6G or newer
-Jailbroken iPad Air/Pro or newer
-Jailbroken iPad mini 2 or newer
How to install .deb on jailbreak iOS devices
Free Fire Hack features – Jailbreak iOS:

1. Mod Menu
Chams Mods ~ Special Thanks to Ruit and for bR34Kr Rainbow Chams ~
2. Rainbow Chams // Chams colour change like the shades of a rainbow
3. Clear Chams // See Players through walls
4. Custom RGB Chams // RGB Sliders for custom Chams Colours (Color Picker) Turn the Custom RGB Chams Switch On (No Need to turn on slider)
5. Single Color Slider Chams // One Color Slider that goes from 000000 to FFFFFF
Aimbot Menu
6. Aimbot // Snaps your crosshair onto enemy
7. Aimbot Button // Toggle Aimbot via Custom button on screen
8. Shoot To Aim // Aimbot is toggled when shooting
9. FOV Check // Only snaps to Enemy if they are in your FOV
10. Select By – Distance/Crosshair // Select Closest Enemy based on distance or crosshair
ESP Menu
11. Bounding Box // Draws a box around enemy players
12. Snap Lines // Draws a line to enemy players
13. Snap Lines Direction – Bottom, Top, Left, Right // Select starting direction of snap lines
14. Player Name // Shows Enemy Name
15. Distance // Shows Distance from Enemy
16. No Fog // Removes Fog from your view
Download [iTunes]