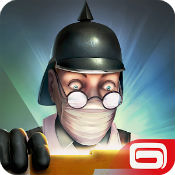 Blitz Brigade 
v2.4.0u

Mod apk for Android.

You ready for multiplayer Action? Axis or Allies, victory or defeat, mayo or mustard… All will be decided in the ultimate FPS showdown, Blitz Brigade!
Become one of six highly skilled and totally badass classes and team up with other players to pound your enemies into the dirt and call them mean names.
Finally, a true class-based multiplayer FPS Game comes to Android!

***** Lock 'n' load for team-based FPS Action! *****

GIVE AN ONLINE BEATDOWN!
√ Up to 12 players can battle online in multiplayer games
√ 6 classes: Soldier, Gunner, Medic, Sniper, Stealth, Demolisher
√ Control the battlefield in Domination mode
√ Frag everyone from the opposing army in Deathmatch games
√ Use 3 different vehicles for a tactical advantage in battle
√ Fight with over 100 weapons, each made for a specific class
√ Unique taunts and kill phrases for each character in the game
√ Voice Chat to create your game plan in the heat of the action

HONE YOUR KILLER SKILLS IN TRAINING MISSIONS
√ Complete 120 unique action-packed missions
√ Learn to master each class's specialized battle skills
√ Pilot a Helicopter and rain death from above
√ Hop into a Tank to steamroll the enemy army

What's New

WEAPON UPGRADES: Collect Fusion cards and unlock amazing boosts and perks to wreck your rivals!

CARD CRATES: Crack open a crate of smackdown! Get Boxes to obtain Fusion Cards!

NEW ARSENAL: Grab the latest primary and secondary weapons, including a futuristic set of sci-fi firepower.

MYSTERY BUNDLE: Try your luck with the new Bundle and get a great bargain for 3 of the best items in our vault!

BALANCE CHANGES: Decreased Medic's speed & more. Check out our social pages for more info.
Blitz Brigade v2.4.0u Mod Info:
How to install Blitz Brigade v2.4.0u MOD?
Download apk.
Open.
Install.
Enjoy.
OBB auto download.
Downloads: [Google Play]
Blitz Brigade v2.4.0u MOD APK | Mirror 1 | Mirror 2