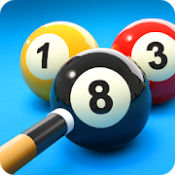 8 Ball Pool v4.9.1 MOD APK for Android.
8 Ball Pool  is a unique type of, very advance and very high quality 8 Ball pool game on android platform. This game is very famous among the gamer community. In fact this game is known as the no. 1 pool game in the world. In here you can enjoy playing through different modes. You can play the game with your friends as well and you can even enjoy playing with the legends. You can find all the information about its features and other details in the lists mentioned below. We are here presenting the latest version of this game for free download. Get it right now and start enjoying.
•The World's #1 Pool game – now on Android!•
Play with friends! Play with Legends. Play the hit Miniclip 8 Ball Pool game on your mobile and become the best!
COMPETE 1-ON-1 OR IN 8 PLAYER TOURNAMENTS
Refine your skills in the practice arena, take on the world in 1-vs-1 matches, or enter tournaments to win trophies and exclusive cues!
PLAY FOR POOL COINS AND EXCLUSIVE ITEMS
Customize your cue and table! In every competitive 1-vs-1 match you play, there'll be Pool Coins at stake – win the match and the Coins are yours. You can use these to enter higher ranked matches with bigger stakes, or to buy new items in the Pool Shop.
CHALLENGE YOUR FRIENDS
Playing friends is easy: sign in with your Miniclip or Facebook account and you'll be able to challenge your friends straight from the game. Challenge friends anytime, anywhere and show off your skills.
LEVEL UP
8 Ball Pool's level system means you're always facing a challenge. Play matches to increase your ranking and get access to more exclusive match locations, where you play against only the best Pool players.
What's New in 8 Ball Pool v4.9.1 MOD APK

It's time for a new 8 Ball Pool update!
We've made some tweaks and solved some pesky bugs, making 8 Ball Pool even smoother for your entertainment!
Download the latest update now to get your hands on new content! Time to hit the tables!
How To Install ?
Uninstall The Main Game.
Download The modded apk from below
Install And Enjoy!
Mod info:
v1:
v2:

1. Endless Guideline (even on no-guideline tables)
2. lvl 255 temporary
3. All Tables open (but you need the coins)
4. All Queues open (but you need the coins/cash)
*Be careful, you might get banned!
[ads1]
Download [Google Play]
[toggle title="Old Versions" state="close"]
8 Ball Pool v3.12.4 Mod v1 APK
8 Ball Pool v3.10.3 Mod APK v1 | Mirror 1 | Mirror 2 | Mirror 3
8 Ball Pool v3.10.2 Mod APK v1 | Mirror 1 | Mirror 2 | Mirror 3
8 Ball Pool v3.10.1 Mod APK v1 | Mirror 1 | Mirror 2 | Mirror 3

8 Ball Pool v3.10.1 Mod APK v2 | Mirror 1 | Mirror 2 | Mirror 3
8 Ball Pool v3.10.0 Mod APK v1 | Mirror 1 | Mirror 2 | Mirror 3
8 Ball Pool v3.9.1 Mod APK v1 | Mirror 1 | Mirror 2 | Mirror 3

8 Ball Pool v3.9.1 Mod APK v2 | Mirror 1 | Mirror 2 | Mirror 3
Fixed – 8 Ball Pool v3.9.0 Mod APK v1 | Mirror 1 | Mirror 2 | Mirror 3

8 Ball Pool v3.9.0 Mod APK v2 | Mirror 1 | Mirror 2 | Mirror 3
8 Ball Pool v3.5.0 Mod 1 Features:
No Rules ( No need to select Pocket )
All Room Guideline
Auto win
8 Ball Pool v3.5.0 Mod 2 Features:
Pocket Call Disable Room 20M 100M 200M 500M other

GuidLine All Room no GuidLine

Auto Win works you break fist no work Always ok

Anti Ban work

Used Xmod for guidline hacker

Not work Login Facebook and Google+

Work Miniclip ID ok
8 Ball Pool v3.5.2 APK / Mirror / Mirror 2 – No Mod (Last version)

8 Ball Pool v3.5.0 MOD APK / Mirror / Mirror 2 – Last tested: April 24,2016 No force update required
[/toggle]